Ticketed Commencement
Custom seating maps and floor plans along with online ticketing ensure the right people are sitting in the right spot.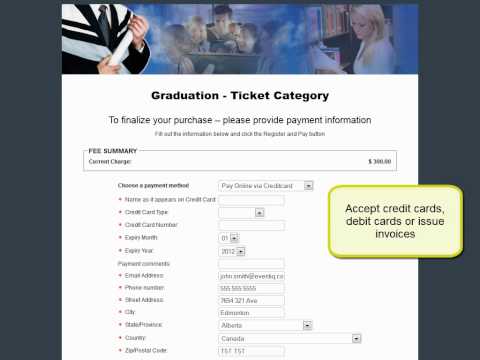 Graduation Ticketing Video
Venue seating map 
Menu choice and allergy info
Online debit/credit payment
Scannable tickets
Watch the Video >
Theatre Seating
Student ID validation with degree program
Theatre seat selection
Digital ticket distribution
Extra ticket notification
Take the Tour >
Application with Tickets
Ticket Limits – Capacity Seating
Student ID Validation with form population
Seat map management
Take the Tour >
Other Commencement Activities
RVSPs, venue and event capacity settings, name recording and venue seating management - InviteRight anticipates anything you could need to help manage your commencement.
NameCatcher Video
Phonetic spelling is noted
President congratulates graduands
Graduand records name
Name shared with card writers or readers
Watch the Video >
Weather Contingency Ticketing
Seating limits in the event of inclement weather
Multiple Venues
SMS Reminders and notification of last minute changes
Take the Tour >
Name Pronunciation
Graduand phonetically spells their name
Graduand records name prounounciation
Information shared with card writers or readers
Take the Tour >
Online Grad Fair
Regalia and ring ordering, diploma copies, gifts and DVDs, tassels, photo scheduling - you can add endless arbitrary field questions to make your registration form an all-in-one stop for graduates.
Memorabilia and Ticketing
Guest tickets and room reservations
Memorabilia sales, donation, luncheon reservation
Memorabilia Order fufillment
Take the Tour >
#217, 8008 104 Street
Edmonton, AB T6E 4E2
©2018 RightLabs™ Inc., CampusRight is a trademark of RightLabs™ Inc. All rights reserved.